1969 Heuer Autavia 1163MH Automatic Chronograph. The hour and minute hands on this watch are unfortunately incorrect.
Produced in 1969, The 1163MH was the first model from Heuer to use the caliber modular automatic chronograph movement jointly  developed by Heuer, Hamilton-Buren, Breitling and Dubois-Depraz (the Chronomatic group). The movement uses the Buren Super Slender microrotor automatic movement as a base with a Dubois-Depraz chronograph module on top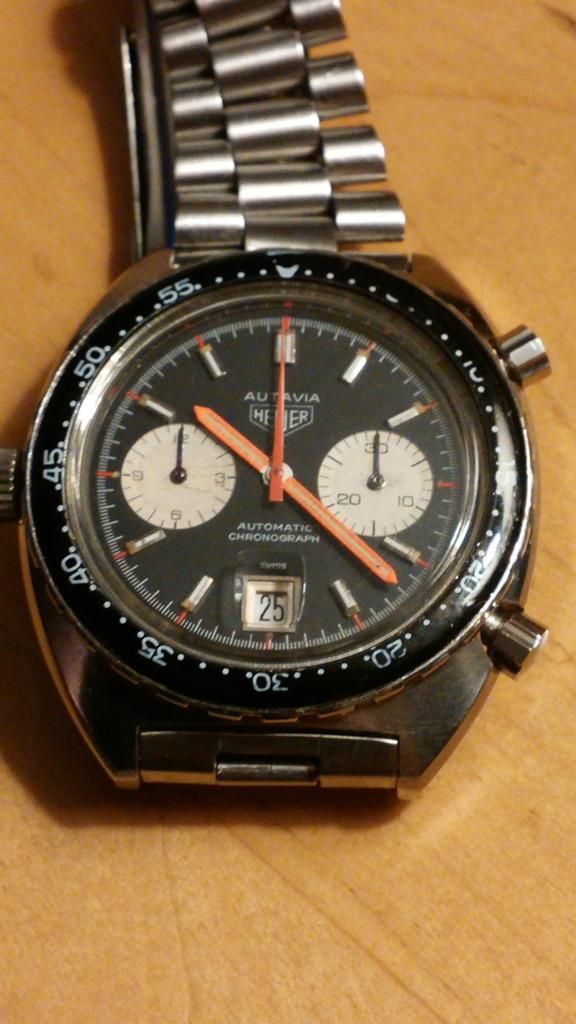 On March 3, 1969 the Chronomatic group held a press conference in Geneva Switzerland and New York City to publicly announce the creation of automatic chronographs with the caliber 11 movement. At the 1969 Basel Fair in April the Chronomatic group showed 100 pre-production prototypes of Heuer and Breitling chronographs to attendees and after the show they distributed the watches to their most important distributors. Heuer chronographs with the caliber 11 in them were available to consumers worldwide in August of 1969.
Early caliber 11 chronographs were known to suffer from over-banking of the balance. Heuer responded to problems in early watches by creating a modification to these calibers which addressed the problem. Caliber 11s modified to fix the problem have an "i" stamped on them next to the Cal. 11 designation under the balance and in 1970, Heuer introduced the caliber 12 which incorporated the modification into production.